Tips for Working with a Carpet Cleaning Service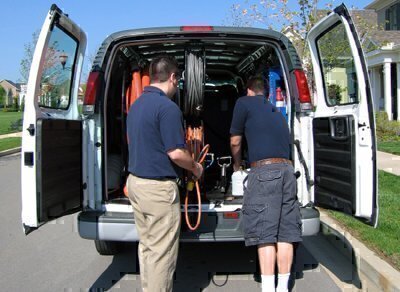 Preparation
Remove or raise hanging objects that might be bumped by cleaning personnel, who generally walk backwards as they work.
Move prized valuables—antiques, bric-a-brac, bookcases. Cleaning personnel will generally move such items for you, but not necessarily with the care you desire.
Lift draperies that touch, or nearly touch, the floor. Throw the bottoms of the drapes over hangers suspended from curtain rods.
Some companies require customers to vacuum first; some do it for free. But it can't hurt to do it yourself.
Communication
If you want a particular kind of service—such as truck-mounted hot-water-extraction cleaning—inform the company before the day of your scheduled appointment.
When company personnel arrive, treat them like professionals. Ask the serviceperson to explain what they will do and what choices you have to make.
Specify which add-on features you want, and which you don't want—carpet protector, deodorizer, etc.
Describe past cleanings. If shampoo had been used, your serviceperson may have to alter the cleaning solution for the current job to compensate for residues. If an absorbent powder had been used, the serviceperson may have to do a more thorough vacuuming or use extra liquid to compensate for absorption by the powder remaining in the carpet.
Point out stains and explain what caused them, when they got there, whether they are likely to go all the way to the backing. Reach an agreement with the serviceperson on each stain—will it be removed in the normal process of cleaning, removed at additional cost, or not necessarily removed at all?
Alert the serviceperson to furniture with weak legs, seams in the carpet (if you know where they are), and any other potential problem areas.
Get the total cost of the job in writing before service begins.
Afterwards
Don't pay until you have walked around and inspected the carpet. Check for spots. Don't listen if the serviceperson tells you not to walk on it; you can, if you're careful. If you are not satisfied with the finished job, explain that you will not pay until the work is done properly.
Make sure plastic or foil shields have been placed beneath the legs of all furniture.
Before the serviceperson leaves, ask him or her to estimate carpet drying time and to provide any special instructions.
If the weather is not too cold, open windows and doors wide to speed drying.
Don't put anything on top of the carpet to walk on; this will slow drying. If you must walk on the carpet, wear socks.
Leave moisture shields under furniture legs until you are sure the carpet is dry. Mahogany, teak, redwood, and freshly stained wood pieces will bleed color into carpet.
Vacuum immediately after carpet is dry and then vacuum regularly.
If you discover spots or other problems after the serviceperson has left, call the company immediately. The longer you wait, the more likely they will suspect that the spot is new. If the carpet still feels damp after 24 hours, call the company to see what can be done to speed drying (unfortunately, not much in most cases).
If you cannot resolve a dispute, complain to your local government's office of consumer affairs or the

Better Business Bureau

. There are independent inspectors who will, for a fee, come to your home and offer a third-party judgment. They will also help arbitrate complaints.
Call CitruSolution today 251-621-6880